Embracing Success
Ministries Trade Spaces to Better Serve Community's Most Vulnerable.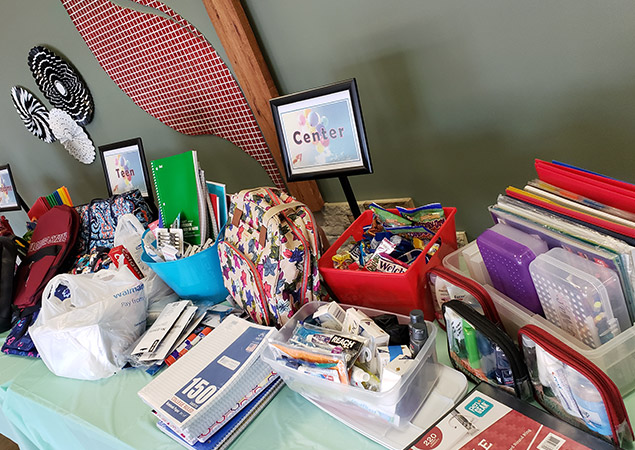 When Ann Sprague was in the early stages of starting her ministry for the homeless in Crestview, she prayed for God to open doors and windows. She never dreamed those windows and doors would come with 14 bedrooms and 14 bathrooms.
That's what happened, though, when UMCH had a building in Crestview that was too big for its needs and Sprague's ministry had needs that were too big for its building. The two agencies decided to trade spaces to better meet the needs of the community.
"We're working together to do God's will," said Sprague, Executive Director of the Crestview Area Shelter for the Homeless (CASH). "I knew God had a plan, but He's so creative. He comes up with ways I could never imagine."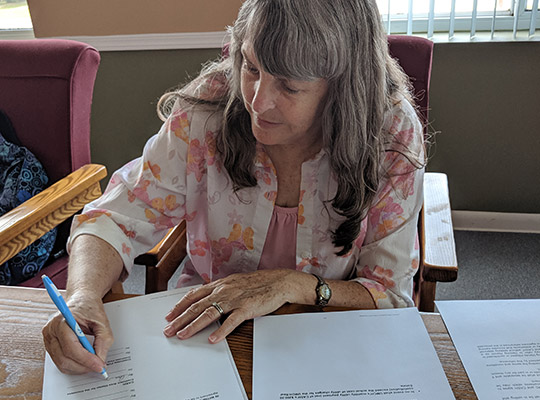 The facility, now home to CASH's Helping Hands ministry, was originally used by UMCH as a group home for girls and boys, ages 11-17, who could no longer live with their families. Four years after it opened, child welfare advocates at the federal level began advocating for foster homes instead of group homes, and UMCH helped the kids transition, finding foster homes for some as others transitioned to independence, according to Kristin Alberda, Executive Director.
In an effort to continue supporting the youth and their foster families, UMCH changed its focus and opened a teen center, offering after-school programs, tutoring, and help with resumes, job applications and interview training. The center also provides snacks, hygiene items, and opportunities for the youth to participate in enrichment activities such as art and dance classes. "It's hard for children in transition to participate in extracurricular activities, but it's important to help them build social skills" Alberda said. "This all came from a desire to provide some additional support to keep kids stable wherever they are."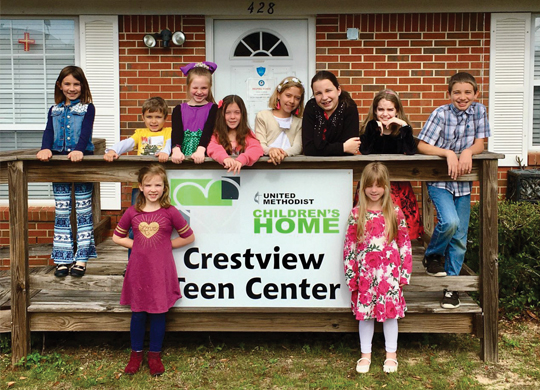 While the Embrace Teen Center serves many needs, the facility was too big for its current use. The solution came during a meeting with staff of UMCH's recently rebranded Northwest Florida ministry, and Dr. Michael Precht, who at the time, was the pastor of the First United Methodist Church in Crestview. CASH had been using a former parsonage on the church property as a cold night shelter and the ministry's headquarters, and Precht knew of Sprague's desire to expand.
"We're working together to do God's will," said Sprague, Executive Director of the Crestview Area Shelter for the Homeless (CASH). "I knew God had a plan, but He's so creative. He comes up with ways I could never imagine."
"I was very aware of how desperately the community needed these resources for the homeless because we fielded those calls every day," he said. "By the end of our meeting, we were thinking, we were dreaming, we were wondering if it could come to be. It was a real answer to prayer."
Sprague had been searching for the perfect facility for quite a while. After a 35-year career in teaching, she started her ministry in 2008 in hopes of providing a cold night shelter for those living on the streets. She partnered with churches that opened their doors to the homeless during bad weather, but after a few years, the demand had grown and so had the ministry.
In 2014, CASH organized as a 501(c)3 and First Methodist offered the use of its former parsonage for office space. They added a day program coined "Helping Hands" which provides lunch, laundry facilities, showers, clothing, and other necessities. In addition, volunteers provide transportation to doctors' appointments and help the homeless get prescriptions, identification and benefits such as Social Security disability.
The only thing missing was a permanent home that would allow the ministry to serve those in need year-round. When Sprague first saw UMCH's space, "my mouth dropped open," she said. The building has two separate wings so they can accommodate men on one side, women and children on the other, and have a few rooms reserved for families. "We've had as many as 30 people lined up to use one shower at our old place – one shower," Sprague said. "Now we have 14 showers. You always hope and dream you'll get a better place and be able to help more people, but you don't know how that will happen. You just know that God has a plan.
Precht, who has since moved to Dauphin Way United Methodist Church, said the Crestview congregation was excited about the opportunity to work more closely with the Embrace Teen Center. "We take great pride in honoring and supporting the kids in the Children's Home, and I just knew our church would be so excited to have them in our backyard."
Alberda said the Embrace Teen Center is enjoying its new home in the 3-bedroom, 2-bath parsonage at First Methodist, and the congregation welcomed them by stocking the shelves with school supplies, backpacks and toiletries. In addition, the students are able to use the church's facilities and outdoor space for their programs. "The church has been very gracious," she said. "It's all pretty exciting."
No one is more excited than Sprague. "I get emotional talking about it," she said. "We're just so grateful to the Children's Home for this blessing. God definitely had His hand in this."